Callers can remain anonymous and are eligible to receive a cash reward if the information given leads to an arrest or grand jury indictment of a felony offender. Crime Stoppers relies on volunteer Directors and tax deductible contributions from the public in order to operate the administration of the program.
Crime Stoppers of Racine County 25th Annual Golf Outing!
Get those clubs out of storage, clean them up and come out to one of the first golf outings of the season in Racine County! The Crime Stoppers of Racine County 25th Annual Golf Outing kicks off the golf season on Wednesday, May 16, 2018 at Rivermoor Golf Course. This beautiful golf course is hosting our outing for the seventh straight year, with its great banquet facility and scrumptious food for the end of the outing dinner and scenic course.
This is one of our two primary fund raisers, with various raffles and silent auctions, betting holes and an air cannon golf ball launcher that will enhance the golfing event and your participation! Come out and mingle with some of the law enforcement officers that keep us safe in the community; however, you may want to wear a helmet on the course as these same officers aren't as accurate with their golf clubs! It will be a day of fun and relaxation while also assisting Crime Stoppers of Racine County in helping keep our community safer and more secure.
To register as a golfer or become a sponsor CLICK HERE!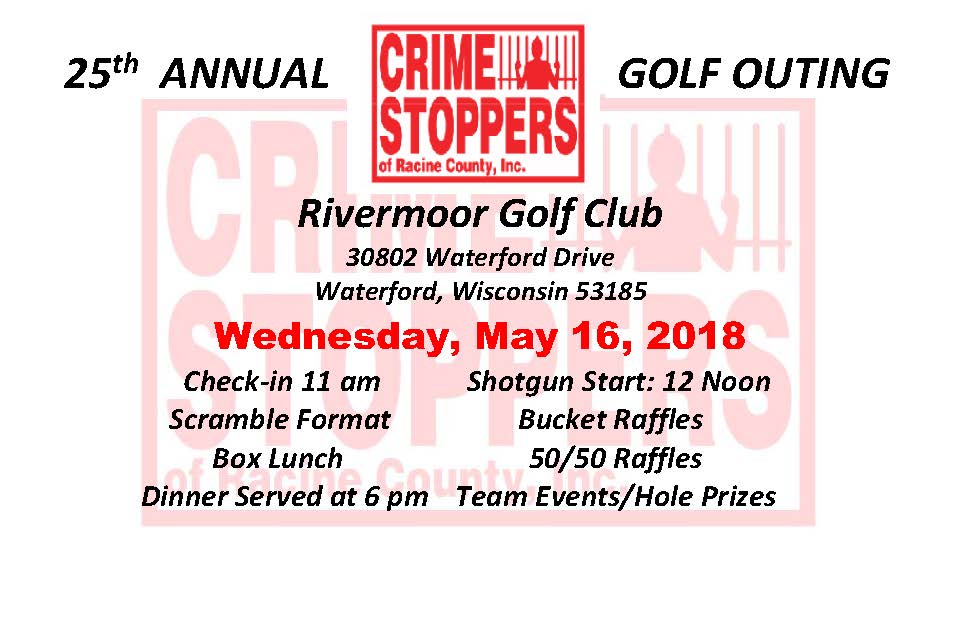 THANKS TO OUR 2017/2018 GOLD PLUS EVENT SPONSORS
Hypro,Inc. Buckets Pub CH Peters
Malicki's Piggly Wiggly on Washington
See Our Sponsor Page for More Information on Our Sponsors