Neil Diamond Tribute Concert Benefiting Crime Stoppers!
November 09, 2018
Crime Stoppers of Racine County is proud to announce a benefit concert on Friday, November 9, 2018 at Memorial Hall, 72 7th St., Racine, featuring Eric Diamond performing as the ULTIMATE tribute to Neil Diamond! Eric Diamond is based out of Southeastern Wisconsin and puts on a must see tribute to Neil Diamond. The 90 minute show will begin at 6:30 PM and doors will open at 5:30 PM. Representatives from both Crime Stoppers and Law Enforcement will be available to answer any questions you might have regarding Crime Stoppers.
At this time, we need your support! Our Board of Directors is comprised of an all volunteer board made up of community and county members, as well as advisors from various Racine County law enforcement agencies. We work together towards the success and safety for the residents of Racine County.
Since the inception of Crime Stoppers of Racine County in 1989, anonymous tips have helped solve hundreds of cases, including more than a dozen homicides! Specifically, through May 2018, Crime Stoppers has recorded:
- 2,266 cases cleared through the arrest of 2,211 individuals
- $214,893 in recovered stolen property
- The seizure of $316,650 in illegal drugs
- $160,027 paid out in reward distributions
You may receive a call requesting a donation for concert tickets over the next several weeks, however, you make call the ticket office directly at 262-995-0588 in order to make a donation and receive tickets. Crime Stoppers of Racine County is a 501(c)(3) charitable organization and your donation is tax deductible to the fullest extent allowed by law.
Hope to see you at the concert!

---
26th Annual Golf Outing Fund Raising Event
May 15, 2019
Mark your calendar to join us for our primary fund raising event...and some great golf and prizes!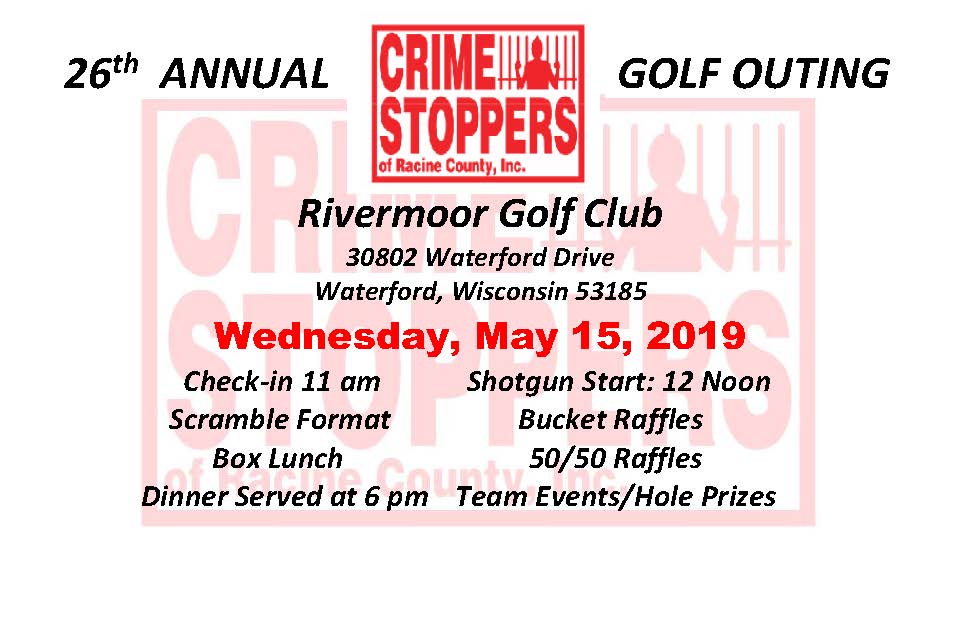 Portion of Proceeds Support Crime Stoppers of Racine County Reward Fund
For Additional Information Contact:
Ralph 262-930-4540 or
Scott 262-672-4645
or
CSRC; PO Box 081245; Racine, WI 53408-1245
Click below for 2019 Golf Registration Form:
COMING SOON!

Click below for 2019 Golf Sponsorship Form:
COMING SOON!

---